Housing Trends: America Rediscovers Its Love of the Front Porch
LYNN FREEHILL-MAYE NOV 20, 2017
In the 20th century, porches couldn't compete with TV and air conditioning. Now this classic feature of American homes is staging a comeback as something more stylish and image-conscious than ever before.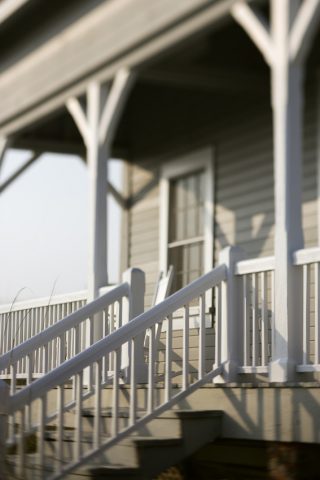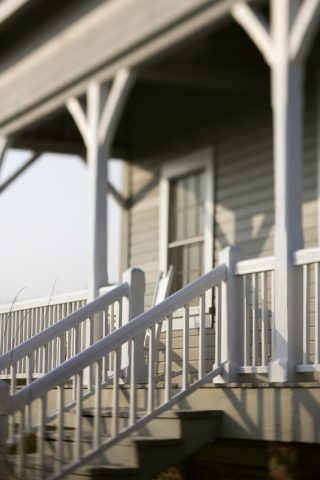 Two years ago, Scott Doyon saw the chance to organize a kind of concert that was unheard of in the Atlanta metro area. It was a remarkably homey concert for a city, defined primarily by its venue: front porches.
Doyon, a spiky-haired former musician, thought maybe 25 bands would sign up. He got 130. Spectators hopped the train to Decatur, a streetcar suburb of Atlanta, by the thousands. More than 100 porches throughout Decatur's historic Oakhurst neighborhood hosted bands. "Where we ended up, both for bands and people, was a number that wasn't even on the pipe dream list," he says. "I was completely blown away."
What Doyon tapped into was a thoroughly unexpected 21st-century phenomenon. The Porchfest is a set of DIY music festivals that started in a single upstate New York town in 2007 and has grown organically in the decade since. They've popped up in cities and towns across North America. In 2015, 46 Porchfests were recorded. In 2017, the number was up to 104.
The original idea sprouted in Ithaca, New York, among neighbors who were playing ukelele in front of their houses. "Doesn't a porch make a great stage?" they observed. Those neighbors have gladly helped other U.S. and Canadian cities copycat the idea. Porchfests have most recently cropped up in cities like Minneapolis and San Antonio, along with suburbs like Atlanta's Decatur and idyllic small towns like Wellfleet, Massachusetts, on Cape Cod.
These days Doyon, 50, handles communications for an urban planning and design firm. In October he organized Decatur's third annual Oakhurst Porchfest, scaled up this year to 220 bands (and complete with a Millennial-organized electronic-dance afterparty). With the Porchfest, Doyon realized, a new connection has developed between his old music gig and his new profession. To younger urbanites, he says, porches look like stages. In the Instagram age, the front steps have become places to see and be seen, throw a rocking concert or party, and to foster metropolitan community in a walk-by, stop-in-for-wine sense. "Not by design but by accident—by having strangers descend on their yard, having a musician play, sharing a beer, and meeting some new folks—I gave all these people a tool to look at what porches mean in a new way," Doyon says.
As a word alone, "porch" is trending, especially in big, techie cities.
Much farther north, Shelley Glica sees something percolating, too. The Buffalo native organized her second annual Porchfest in August in Niagara Falls, Ontario. Glica, 43, evokes a hipster mama in thick Prada frames and arm-wrapping tattoos. In the warmer months, on her own front steps, she also hosts a "Stories From the Porch" series of speakers on art, history, and culture. Her events have attracted participants as young as 11, who—like her twentysomething kids—love hanging out on the porches. Glica takes pleasure in redefining her community's relationship to an American architectural feature once dismissed as old-fashioned. "It's subtle," she says. "In 10 years we're going to go, 'When did that happen?' But it's definitely happening."
The thing is, what Doyon and Glica are doing represents a generational rethinking of the front porch. Porch-building is on the rise across the country, up 23 percent on new homes from two decades ago. That fact excites city designers, and it may well be linked to the U.S. urban renaissance—but the classic American porch isn't being used in quite the practical way it once was. Through Porchfests and beyond, the front steps are taking on a new life—one that's stylish, sporadic, and often more image-conscious.
From presidents to techies
The roots of the North American porch go back centuries, inspired by design features all over the world. In his book "The American Porch: An Informal History of an informal Place," historian Michael Dolan asserts that slaves combined the precolonial African housefront with the native Arawak "bohio" in the Caribbean. West Africans had used an area in front of their home during the hot daytime hours, shading it with a roof supported by poles and elevating it a few feet to keep away biting insects. That kind of indoor-outdoor living, folklorists believe, was echoed in the Arawak bohio, the shaded, partially open dwellings built by one of the Caribbean's dominant tribes. Planters then willingly mimicked the shaded housefronts on little shotgun houses, which spread north on the American mainland.
There were other cultural influences on the porch, too: Dutch settlers introduced the stoop. Spanish colonials built portals. The English brought the idea for elegant loggias like the ones they'd admired in Italy. "As [the] loggia was becoming fashionable in England, the less classical structure known variously as the piazza, the gallerie, and the veranda was insinuating itself into the vernacular architecture of the Caribbean and North America," Dolan writes. "All these elements blended into what we know as the porch through a process folklorists call creolization."