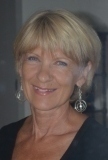 Throughout the course of the record-setting event, the public was invited to pitch in by riding a human-powered bicycle blender to make the smoothie over the course of the seven-hour process.
"The action was non-stop," said Cabot farmer/owner Sheri Boardman, who was one of the team's blender operators. "As soon as one of our prep team members filled a Vitamix blender pitcher with the ingredients, we placed it on the blender base, mixed it to the right consistency, and then immediately poured it into our holding vessel. There wasn't a minute to spare between pitchers. It was challenging – but then again, no one ever said setting a world record would be easy."
The former Guinness World Record for the World's Largest Smoothie was held by a team of students from Fresno State University. They created a smoothie that was 1,438 liters (380 U.S. gallons) of orange juice, yogurt, and frozen strawberries.
Once the record was established and the formalities of bestowing the World Record certification complete, the 400-gallon smoothie was passed out to event attendees in commemorative cups for a suggested one-dollar donation to Food Bank For New York City.