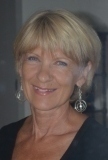 Lighter, brighter décor can make any home feel spacious, no matter its size. To add visual square footage without renovating, freshen up your home's interior design with these tips.
It may often go unnoticed, but the ceiling is an important layer in every room's design. To really brighten up your home, start at the top. Create the illusion of a soaring ceiling with vintage damask wallpaper in a subtle shade – a pattern like this will appear different from every angle of the room, providing a visual cue for you and guests to look up and feel a sense of spaciousness.
White walls may not stimulate the senses, but a blank canvas will work wonders for your home, especially when offsetting darker-toned furniture or busy patterns like florals or chevron stripes. To avoid a sterile color palette, paint walls with a seashell, linen, or even champagne shade – these are much less austere, but still neutral enough to lighten the space. And when it comes time to sell, muting the wall color will make your home more appealing to a range of buyers.
If a neutral color scheme isn't your thing (or if you have kids!), consider pairing crisp white trim with your existing wall color. All colors stand out against white, so framing the room with it will make your home feel lighter and larger.
No matter the size of the room, strategically-placed mirrors can have a dramatic impact on the space. If possible, hang mirrors opposite windows to reflect not only the opposing wall, but also the outdoors beyond it. If it's a sunny day, the mirror will capture even more light, creating an effect that counteracts any dim areas of the room.
For those who appreciate bolder colors and patterns, artwork can be an inexpensive, non-permanent way to brighten up your home. Scale art pieces slightly larger than what the dimensions of the room call for – a swath of color will make the surrounding décor pop, too.